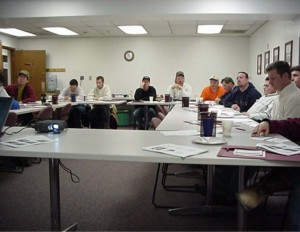 DOT Safety Plus
Training Techniques
 Adult Learning Techniques
DOT Safety Plus will try to accommodate these fundamental learning principles in all of our training programs:
Principles of Learning
Readiness – Learning cannot be forced
Motivation – There has to be interest to learn
Effect – We tend to learn that which is followed by pleasure
Repetition – The more often used, the better the learning
Visual aids – Use to reinforce key points
Relate to old skills – Touch their emotions
Everyone learns at a different pace
The ideal training scenario occurs when training can be delivered face to face. There is no substitute for trainer/trainee interaction, especially if the topic is dependent on enhancing performance or a particular skill set.
Retention is significantly improved if the delivery can include as many hands on exercises as possible. For example, the best way to instruct a driver to do a pre-trip is to go out to a truck and demonstrate and ask for participation in basic inspection procedures.
A good instructor will establish regular

interaction and eye contact

to ensure that the critical message is being understood by all the various learning types present.
Below are principles that are built into as many of our training programs as possible.
Learner Types
All of us fall into one or a couple of these learner types.  We try to build activities into our presentations that will accomodate as many as possible.
Interpersonal – Group work
Introspective – Action plans, ponder
Spatial – Visual, lots of pictures
Physical – Hands on, flip charts
Musical – Sound patterns, stuff on tables
Verbal – Read materials, notes
Logical – Pick apart, debate
Obviously, limited budgets and time are common challenges in the transportation business.  The objective of the class should normally dictate the amount of time required to meet that objective (i.e. no more than 3 ideas for every 30 minutes), however, this may be a fantasy in many of our lives.  Reducing the amount of time for training, by default automatically reduces the ability to meet the intended objectives and expect the trainees to retain material or procedures that have been delivered.  Reduced time and budget should require adjusted objectives and expectations accordingly.
Working with the latest delivery techniques, depending on the topic and learning objectives, we have had success with the on-line "Go-To-Meeting" delivery format.  This is the delivery technique we will be using in the On-Line seminars we will be offering monthly.  We can simulate some of the face to face advantages if mikes are open or questions are encouraged.  Cams and open mikes can enhance the learning experience, but class sized must be kept sufficiently small to encourage interaction and reduce noise distractions.
On-line "Go to Meeting presentations is best if the topic is informational in nature or can be focused on a particular procedural adjustment.  I recently used it to correct a procedural error in logging at a particular location.  Using the writing feature, I was able to create a log in response to their questions but I was uncertain that all of those listening actually understood it.
Class sizes regardless of the medium used, are best conducted with 20 or less to facilitate more participation.  If interaction is reduced, the probability increases that there may be a quiet learner who could get missed with a larger class.  Obviously, as a consultant, it does not matter what size; but we can have a lot more fun with a smaller class.
 Programs that we have ready on short notice include:
 HAZARDOUS MATERIALS CERTIFICATION:  This one day seminar is for hazmat shippers, transporters and handlers.  This training is mandatory for all employees who are involved with transporting hazardous materials.  Employers must ensure that each employee is trained initially within 90 days of employment and recertified every 36 months.  The training must cover general requirements, function specific, emergency response and security components. Hazmat training, testing and certification are required every 36 months.
Hazardous Materials Regulations can be complicated depending on the material and the type of operation. A company's needs may dictate variations in the content and amount of time required to deliver different objective.
A company with substantial HM business should have a few HM experts who can design appropriate procedures and respond to HM questions
MOTOR CARRIER SAFETY, HOW TO PASS A DOT AUDIT:  Performing well during an audit involves not only presenting satisfactory records but is as much about conveying to the auditor that you have management control over six safety areas.  We will cover all six areas and the pertinent Federal Motor Carrier Safety Regulations that apply.  Audit success usually involves setting the standards and monitoring performance long before the auditor arrives.  Our presenters regularly represent and assist our clients in successful audits every year.  Participants will actually audit carrier's records during this presentation.  Hands on experiences and practical tips will be a large part of this seminar.  A company's needs may dictate variations in the content and amount of time required to deliver different objective.
MOTOR CARRIER SAFETY:  The DOT requires that every employer and employee who operates trucks on a public highway be trained and be knowledgeable of the Federal Motor Carrier Safety Regulation—this is the seminar to do it.  This one day seminar covers the foundations for all managers and employees in the trucking industry.  CSA will be covered in detail along with practical advice on how to manage your scores.  We will cover all pertinent Federal Motor Carrier Safety Requirements including: alcohol and drug testing, driver's licensing and qualifications, accident control, insurance requirements, hours of service and logs, maintenance, and basic hazardous materials.
The Federal Motor Carrier Safety Regulations have several complicated chapters particularly addressing drug and alcohol testing, driver qualifications, hours of service, and maintenance.  A company's needs may dictate variations in the content and amount of time required to deliver different objectives.
FEDERAL HOURS OF SERVICE:  One of the most visible and audited of the areas the DOT mandates management control over is how the driver's hours of service are utilized.  Everyone in the industry must have an intimate knowledge of hours of service limits and logs. It is not so much about logs or even hours limits as it is about fatigue and how to minimize it.  We will cover the regulations and interpretations that effect how we limit our driver's hours and record that activity on the logs.  Don't log unless you have to; but if you need to, they have to be perfect.  The Final Rule on Electronic Logging Devices is due in November of this year.  The basic of this proposal will be reviewed.
OSHA IN THE TRUCKING INDUSTRY:  The Occupational Safety and Health Administration has thousands of workplace safety regulations that many of us in the industry consider secondary to the DOT rules.  OSHA considers the cab of the truck as a workplace.  The transportation industry is loaded with OSHA regulated areas including the office, warehouse, and the shop.  Find out what they have jurisdiction over and what we must do to comply.
TRAIN THE TRAINER, HOW TO RUN A SAFETY MEETING: Training is the most effective method to implement safety programs and motivate employees to stay safe.  If done enthusiastically and effectively, it can be powerful.  If done casually, with no passion, it will probably be a waste of everyone's time.  We don't train to say we did—we train to make a difference in someone's life.  Come to this seminar and learn the basics of effective training and pick up ideas on how to charge up your safety program.
Transportation Excellence—be the Best You Can Be:   New Lean Six Sigma management processes can focus attention on eight different forms of waste within any organization.  Customers are not willing to pay for waste of any kind and it severely affects internal efficiencies and profitability.  Savings opportunities for companies who have taken the full assessment have ranged from $50,000 to $10 Million per year.  The process has never failed to identify areas for improvement and in several cases, huge savings potential.  This seminar will focus on best practices and the tools to use to identify improvement processes and introduces an assessment format to use in your optimization initiative.  After this seminar, you will no doubt walk around your business with a whole new perspective on positive change.
5 Ways to Reduce your CSA Scores:   In July 2015 the DOT plans on introducing the Safety Fitness Determination (SFD) phase of CSA.  Ultimately, the objectives of CSA have been to identify "unfit" motor carriers and either help then be safer or take them out of business.  We will all be surprised how the DOT will define an unfit carrier.  If one of the BASIC scores falls into the ALERT category, a carrier's future existence may be seriously in jeopardy.  It has been estimated that the DOT could increase their out of business orders from 1500 per year to 7500 per year.  Don't be one of them.  This seminar will include a detailed description of how CSA works and then will introduce five major procedures that will reduce your CSA BASIC scores.  After this seminar, you will have a fresh urgency on driving your scores down.
DRUG & ALCOHOL SUPERVISOR REASONABLE SUSPICION TRAINING (3 hours): This course is customized for employees who supervise those involved in a safety-sensitive position.  The regulations state that every person designated to supervise a driver is required to have a minimum of two hours of training  to aid in the recognition of the signs and symptoms of drug and alcohol abuse.  Gain the knowledge and confidence to identify those individuals who depend on an unsafe and illegal substance that can cost them their life and the one who they hit.
ACCIDENT PREVENTION: This is what safety management is all about—stopping accidents; and if they do happen, to minimize our risk of further loss and expense.  In this course we cover best practices preventing the accident (i.e. hiring, training and screening). Accident management and control also will involve internal audits, reporting, motivation/discipline, and root cause techniques.  After the accident, management will include interacting with the media and law enforcement, effective communication with everyone involved, on scene investigation, including evidence collection, documentation and interviewing witnesses.  Accident trending will create the score-sheet for your safety efforts.
Economics 101: Business economics is an integral part of every manager's responsibilities.  Designing and committing to budgets can determine a manager's success and future.  Understanding the basics of a balance sheet and a profit loss statement are essential for all of us.  Forecasting and capacity planning are affected by a historical cycle and the movement of the stock market can have dramatic effects on business demands.  This course will cover the major transportation cost categories and introduce typical benchmarks that may help you make sense of your own performance.
Vehicle Inspections and Maintenance: The CSA BASIC that receives the most attention during the roadside inspection is Vehicle Maintenance.  Out of a 30-40 minute Level 1 inspection, at least 20 minutes will be spent by the inspector checking dozens of measurements and functions of your vehicle's components.  Carriers are required to ensure that their vehicles are maintained and in compliance when on the road.  Drivers are required to conduct pre-trips and record defects. In many cases, service intervals get behind and drivers either don't know what to look at or simply don't invest the necessary time to identify potential defects.  This seminar is a must for managers, mechanics, and drivers.  Learn CVSA guidelines that teach inspectors what to look for. Keep your Vehicle maintenance CSA BASIC scores under control.
 (Customized courses or are always available)